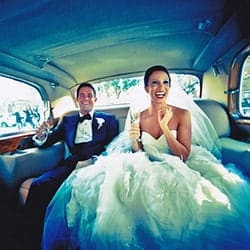 Michael and Tamra Sanford
Marisa and Douglas make an exceptional team, and in return, the customer gets a high level of personalized service and a high quality, often customized, finished product. The relationship started with engagement ring shopping. My fiancé was intrigued by their unparalleled micro-pave work. While I had a good idea of what my fiancé was looking for in a ring, I visited a number of jewelry stores – Harry Winston, Tiffany's, Cartier, Van Cleff & Arples, Kwiat, among others. After all, this was one of the more costly purchases of my life, and definitely the most meaningful one, so I was determined to get it "right". Marisa and Douglas set themselves apart on a number of levels – (1) custom nature: I liked being able to pick the loose diamond that would be set. Looking at pre-set diamonds was not the same. Douglas brought in about 10 – 15 loose stones within certain parameters that allowed me to assess the trade-offs between carat weight, cut, color and clarity – we narrowed it down over time and found the stone that exhibited the features that I valued most; (2) patience: the team at Marisa Perry worked many hours to earn my trust and the sale – they taught me some of the nuances of diamond industry and demonstrated a sincere eagerness to deliver a high quality product that would leave my fiancé elated; (3) value: after comparative shopping, I'm convinced that I could not have gotten a better value (high quality for the price); (4) ring setting: my fiancé wanted a specific type of diamond, but the setting was of equal importance. The Larisa setting is unique because it allows the wedding band(s) to fit flush against the engagement ring. For instance, the comparable setting at Harry Winston does not allow for this fit, which leaves space between the engagement ring and wedding band; and (5) boutique feel: the experience was more than a simple business transaction. Marisa, Douglas, Bob, Roberto and others have went out of their way to make sure that I am a satisfied customer.
In addition to the engagement ring, I have since purchased our wedding bands which were also customized and engraved. Furthermore, I purchased a custom set of diamond earrings that match the design of my wife's engagement ring. When my wife and I returned from our honeymoon, Marisa Perry set some loose pearls in a pair of earrings and a necklace. In short, they can do it all, and they turned a single sale into a lifelong customer relationship. Their quality is very comparable (or better) to top notch, well known stores, and their service is awesome – highly personal and professional. I highly recommend that you visit their boutique store or their website and see what they can offer.




Estee and Neil Leshinsky
From start to finish the process of working with Marisa Perry and MILA in particular was a dream. She was very patient and understanding showing me diamond after diamond until I found the perfect one. She was incredibly responsive, friendly and most importantly, knowledgeable throughout the entire process. I would recommend Marisa Perry's rings to anyone and everyone – the craftsmanship, style and quality simply cannot be topped. Thanks so much for everything!




Daniel and Franziska von Gerstenberger-Draper
Wedding Band dreams do come true with thanks to Marisa Perry Atelier! My now husband had my engagement ring made by Douglas and I knew I wanted my wedding band made by him as well, he is a genius! I emailed and got the most wonderful response from Mila, whom I worked with through the custom process. Douglas's work is truly exquisite and he created the most incredible custom design for me that is a perfect match for my engagement ring. For my husbands wedding band, we decided on a Christian Bauer design and Mila ordered them for us and ensured it was exactly what we wanted! Her attention to detail, responsiveness and kindheartedness are unmatched! I cannot thank everyone at the Marisa Perry Atelier enough – all around I had a dream experience through and through! Thank you, thank you, thank you!




Justine and Tom Hashagen
My experience with Marisa Perry Atelier has been incredible. From my first visit, Mila expertly guided me through the process of buying the perfect ring for my (now) fiancé. She helped educate me on diamonds/rings and advised me about the aspects of both that would maximize both value and quality and result in the best fit for me and my fiancé. At no point did she come across as pushy or like she was trying up-sell me on anything. Needless to say, my fiancé was thrilled with the final product. Anyone who comes here to purchase an engagement ring or other jewelry will no doubt be very happy with their experience.




Jamie and Robert Nussbaum
BEST DECISION WE'VE MADE.  We are so happy that we randomly stumbled upon Marisa Perry during a casual stroll through the West Village. It was over a year before we were contemplating getting engaged, but we felt compelled to walk in given how beautiful the store was.  We had such an amazing experience that first visit that when the time finally came, we knew without hesitation (and after visiting several other reputable jewelers) that Marisa Perry was the only place for us.
Each visit to Marisa Perry has been nothing but seamless. We are always made to feel so comfortable (and I'm not just talking about the champagne).  You can tell without a doubt that Marisa truly wants to get to know her customers on a personal level and always has their best interests at heart. Marisa gave us a true diamond education and not once made us feel uncomfortable or pushed.  We often found ourselves talking about more than just diamonds, lingering long after our appointments had ended just to hang out.
But the main reason you come to Marisa Perry is Douglas—Marisa's husband, co-owner and designer, i.e. the man who will be making your ring.  Being able to meet with Douglas and see his craftsmanship first hand, prior to starting the whole process, was a huge selling point.  Douglas was always there to weigh in and even set the diamonds we had selected in wax so that we could get an even better idea of how our ring would look once finished.  What we didn't realize at the time was that the final work product would far exceed our expectations.
As a side note, you know how you know you got a gorgeous ring? When absolute strangers comment on it—people you have no prior existing relationship with and who aren't obligated to offer you a compliment just because it's the polite thing to do.  This happens ALL the time—complete strangers cannot get over how stunning the ring is.
Ultimately, if you're looking for a gorgeous ring, unparalleled customer service, and overall best value, then look no further than Marisa Perry.  Personally, we won't be going anywhere else for our future needs and are already looking forward to our next project with Marisa and Douglas.




David and Nina Derwin
My fiancé and I were directed to Marisa Perry by a friend who took notice of a beautiful solitaire ring in the window. We went in a week later and Mila immediately began taking excellent care of us. We told her our budget and we already knew exactly what style we wanted. She showed us a few visitations, all of which were beautiful. From there she took me through the process of completing the purchase, which was seamless and custom every step of the way. Mila listened to everything we wanted and we absolutely achieved that and under budget. My fiancé is so happy with the ring and we were blown away by their craftsmanship. This is a ring that will stay in our family for generations and we can't recommend them highly enough!




Chris and Chelsea DeSimone
The experience at Marisa Perry is unlike any other jeweler. The second you step in the door, you are greeted by the wonderful staff (and dogs!), who are both personal and professional. Specifically, Nesrine worked endlessly with my husband and I to ensure my engagement ring, and our wedding bands, were exactly what we were looking for. The final products turned out beautifully and I am constantly getting compliments on my rings. We truly cannot imagine working with another jeweler and cannot recommend them enough. Thank you Marisa Perry and team!




Manan and Reka Shah
My girlfriend (and now fiancée!) wanted to be part of the ring selection process and we went to numerous stores and boutiques around NYC before we came to Marisa Perry. From the first moment we met Mila and the team, we knew this was the place we wanted to get the engagement ring from. Mila was patient, kind, knowledgeable, and gave us great advice we had not heard anywhere else. I went back myself to finalize the ring and got a personal reassurance from Douglas that they would make the perfect ring for us. It arrived, custom-made, 4 weeks later, and it was amazing. Long story short, my fiancée absolutely loves the ring and can't stop staring at it and smiling. Go to Marisa Perry. Go talk with Mila. You won't regret it!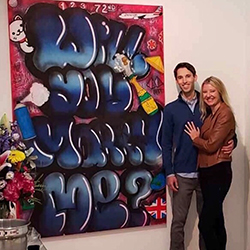 David and Catherine Stern
From start to finish, the entire team- Mila, Nesrine and Marisa- made what could have been an overwhelming experience, completely seamless. They never put pressure on and were there to answer all of my questions. And, their work turned out even better than imagined. My fiancee and I went to Tiffanys, Cartier and other high end stores, but from customer service to the end product, Marisa Perry hands down stands out. We highly recommend them and will be buying our wedding bands and much non-wedding related jewelry from them in the future. You really can't go wrong.




Branden and Peggy Komm
My husband and I had the most wonderful experience at Marisa Perry! The minute you walk through the door, they greet you with champagne. They make it such a personal and amazing experience, and their focus is 100% on you. They want to make sure you are perfectly happy with everything, and really work hard to provide you with the most beautiful product. If you're looking for a magical experience, I highly recommend Marisa Perry!!




Steven and Alexandria Arnold
Transparent. Trustworthy. Caring. Marisa's sweet personality set me at ease while shopping for my engagement ring 2 years ago. I ended up with the ring of my dreams & have not had a single problem with it. My husband & I went to 2 other jewelers before finding Marisa Perry. The other places were so cold, stressful, & made me feel like they were just talking me up to make a sale. It was the complete opposite at Marisa Perry.
I went in there thinking I knew exactly what I wanted & Marisa was so sweet & patient with me as I tried on rings. I loved how honest she was – I was set on a princess cut & she could have easily sold me one, but she cared enough to inform me of the risk you take with having such sharp, delicate corners. I specifically remember her saying a statement with the words, "that sale would be great for me, but, if you were my daughter, I'd tell you to…" I could tell she really meant it. Marisa took the care to really hear me when I described what I wanted & brought the perfect ring to me that I might have missed. I remember her saying, " I have an idea.. let me just try this ring on you.." – she slipped it on my finger & I just cried. It was like a fairytale moment & I knew it was the ring for me.
Marisa went above & beyond to help us out. I remember how hesitant Steven was when I told him I wanted to look at an engagement ring boutique in SoHo, thinking there was no way we could afford something like that on our fresh out of college budgets. Not only did she make a way for my dream ring to fit with his wallet, she went shopping on Long Island for things that she knew we needed for the wedding that she could get for cheaper out there! Our ring shopping experience was just the start of a beautiful friendship that I'm just so thankful for. You'd be silly to not get your ring here.




Patrick and Jennifer Redmond
Marisa and Douglas were fantastic helping us on our engagement and wedding band selections. Initially I had walked into their boutique with some preliminary ideas on what I wanted to present to my future wife. Douglas and Marisa guided me slowly through the engagement ring selection process to not only chose the right setting, but also think about how my wife's wedding band would sit along side the engagement setting. The final rings turned out beautiful, and we've recommended Marisa and Douglas to all of our friends.




Stirling Bomar
I'm a big fan of this place. When looking for an engagement ring last year (and not knowing a single thing about them), Marisa and Douglas spent the time necessary to get me up the learning curve and make an informed decision. Never once were they pushy or too sales oriented. They showed me a wide range of options and ultimately Douglas designed the perfect ring. I've since sent two of my good friends to Marisa Perry and both have also had great experiences. I highly recommend MP to anyone looking for the combination of a great piece of jewelry along with a fun, unique shopping experience.




Angela O'Donnell
I have purchased numerous pieces from Marisa + Douglas's shop, and love all of them. They completely rebuilt my engagement ring to include some beautiful sapphire emerald cut stones that I found at an antique shop out of town. The ring is gorgeous and I receive compliments on it daily. I told them about a vintage platinum, diamond, and aquamarine earring that I'd lost, and they told me not to worry about it–they took the remaining earring and told me they'd take care of it. A couple of weeks later, I had a 'brand new' vintage earring to replace the lost one! It was absolutely perfect. These folks really go beyond expectations in terms of customer service and follow through. The variety of beautiful pieces in their shop is amazing and I love visiting to try on the baubles. If you want to find or have made a beautiful piece of jewelry for someone special (or yourself as I seem to do!) don't hesitate to stop into this little jewel-box of a shop. You will meet some great people there.




Chris Owyoung and Sarah Nashman
Gorgeous engagement rings with second-to-none service.In a perfect world all engagement ring shopping would end at Marisa Perry Atelier.
In all seriousness, my fiancee and I couldn't be happier with the experience. Marisa and her husband Douglas were beyond wonderful from start to finish. I went in thinking that I would never be able to afford anything in their shop on my non-profit salary and ended up with a "from the ground up" custom-made ring that was 3X the size of things I'd seen at Tiffany's, far more beautiful and less money.
Marisa and Douglas spent hour upon hour with me over the course of multiple consultations to ensure that I got exactly the design I wanted (all the while staying within my budget). The results were nothing short of artistry – an instant family heirloom.
Even though we've been engaged for months now, I still catch my fiancee admiring the ring when she thinks no one is else is watching. Walking into their little shop might be the second best decision I've ever made.
UPDATE– Sure, their jewelry is amazing, but it's really Marisa and Douglas – the people – who continue to amaze me. It has been a year since I purchased my fiancee's engagement ring from them and yet, the high level of service they provided from moment I walked it has never waned.
If you were to ask me what differentiates Marisa and Douglas from their peers, it's the level of caring they extend to their customers as well as their work. I never dreamed that I would end up loving the jewelers as much as the ring itself, but that's how things have turned out.
Marisa and Douglas are about people, service and creating the extraordinary. This is the reason I bought my engagement ring from them. This is the reason my fiancee and I returned for our wedding bands. This is the reason they are invited to the wedding.




David Carpenter
From the moment I walked into Marisa and Douglas's store, I felt at home and knew I was in the right place. It was as if Douglas could read my mind in designing the engagement ring, which my wife's best friend has since called, "Her soul, captured in a work of art, on her finger." To this day, I have not seen a ring that matches her personality and style more perfectly. Marisa and Douglas not only provided the perfect ring (and wedding bands); they also provided a great and comforting experience during that nerve-racking pre-engagement time. I am happy to consider them not only the best jewelers I know, but also friends.




Eleas and Virginia Mathios
This is not a jewelry store. It's an enchanting, personable space where lifelong memories are made with people that are passionate about customer service. There is no "pouncing on customers," or "lingering over your shoulder"
Instead, there is this alluring energy that Marisa, Doug and Bob all seem to have where they make intimate connections with their customers; the kind of alluring energy that vampires supposedly have; it's peculiar, seductive and incredibly enticing. Yes, they are the Diamond Vampires with a chocolate lab on Prince Street. I dare you to make your jeweled memories. They don't bite 😉




Sandra Youseff
I can't believe it's taken me so long to review. I got my engagement ring, wedding band, and husband's wedding band here. Marisa and Doug are experts and you will absolutely leave here happy and with the exact ring you want. My brother in law got my sister's wedding gift (earrings here) and I sent friends here to buy rings for their engagement/wedding. They are all happy.
I get so many compliments on my rings. People can't believe the details and workmanship that went into them. That's because Douglas is an expert and perfectionist. He won't stop until you're happy.
I have girlfriends with similar wedding bands – eternity bands – and they complain diamonds pop out. I'm a preschool teacher and my ring takes abuse and that has never happened to me. My ring is so well made.
I also fell in the subway w my engagement ring and the diamond was lose for days before I noticed and it did not fall out. The setting was so expertly done.
I'd like to say I am not rich and did not have a ton of money when we got our rings. Marisa worked w our budget. So don't be afraid of prices.
You don't have to go to scary diamond district or worry about being scammed. Marisa perry will get the diamonds for you.
Years later I walk in to get my ring cleaned or check prongs and Marisa remembers my name.
When we bought our rings, we wanted to pick them up early on a Sunday. Marisa perry opened the store early for us, and took picture of us in the store and everything.
It can get busy in there and Marisa may not be able to help you. So if that's important to you, make that clear when you make an appt. You won't regret your purchase at all!




Kenny Weiser
At Marisa Perry you get a two for one deal: an amazing, well-priced assortment and a commitment to excellence! From day one, the staff (I worked primarily with Bob) provided unparalleled customer service, taking their time to review stone and setting options that fit both my budget and what I felt my soon-to-be fiance would love. Fast forward 2 months, my fiance LOVES the ring and is complimented all the time. We will definitely be back in the future!




Julie U
I highly recommend this jewelry store. Their selection is, as expected, amazing. But, what really makes this store a stand-out are the people. The people are exceptional….. warm, friendly, fun, patient….. just overall, extremely lovely !!! As a customer, you never feel pressured or pushed into anything. What you feel is that they want you to be happy.
Thank you to everyone at Marisa Perry Atelier for our beautiful rings. And, for going the extra mile that you do to make your clients happy.


Thank You Note


Dear Douglas,
I cannot tell you how grateful I am for all the time and attention you put into designing and perfecting our ring. As you picked up on from the start, I am not a "jewelry person". However, I am a person in touch with her own sense of aesthetic. And I definitely see myself as someone who appreciates beauty and I LOVE my rings. I knew I would appreciate any ring that symbolized my inexplicable bond with Paul. And I was willing to believe that time and care and the crafting of those symbols were important in bringing about products that really represented "us". But I had no way of knowing how much a part of "me" my ring would become. I credit not the preciousness of the gems or metals for bringing me to this realization, but you and Marisa for getting to know me and Paul and creating an environment in which we felt entirely comfortable, expressing our preferences, changing our minds and allowing our vision to fuse with your own, to bring about products that are all at once uniquely "Paul and Sonja" and yet still very much Marisa Perry. I also simply put, love the earrings.
Thank you so much, Sonja




Dear Marisa and Douglas
I can't thank you enough for making such an incredible ring for Stephanie. It is absolutely gorgeous and I feel like the luckiest man in the world to have had the opportunity to give it to her. It was wonderful to talk with you guys over the phone and through emails. I'm so excited to be part of the Marisa Perry family and can't wait to see you again.
Love,
Ryan




Dear Douglas and Marisa,
Thanks so much for this beautiful Clasp. It is breathtaking! Not only is it breathtaking but it is an engineering genius! Looking forward to wearing it with the pearls. Please take care and may prosperity, health and love be thought upon you and your family.
Sincerely,
Kimberly and David
Update: Dear Douglas,
The pearls and clasp are magnificent. I love them! David and I are so pleased. I have worn them twice already. Give Marisa our best and take care and we will give you a call next time we are in NYC.




Doug and Bob,
Thank you so much for all your kindness and guidance in creating, designing and helping us to select our engagement and wedding jewelry. All of the pieces we have purchased from your store are absolutely stunning!
Regards,
Gregory and Shelby




Dear The Marisa Perry Team,
I wanted to extend my most sincere and heartfelt thanks for the wonderful job you did on my engagement ring. The finished product exceeded even the most perfect vision i had in my head. Your creation made the most beautiful and special day of my life, just that much more amazing. I will forever be in your debt for that.
I cannot speak highly enough about the customer service I received from you and your staff. I know that you have many customers who were buying jewelry flashier and more expensive than my ring, but never once did I feel like I was not a valued and cherished customer. That is the highest praise I can give to any establishment. I will be referring everyone I know who is in the market for a ring to Marisa Perry. Thank you for making the greatest moment of my life possible.
Sincerely,




Marisa and Douglas,
We wanted to thank you for doing such a wonderful job on our engagement ring. It's beautiful! The pearl earrings you designed were absolutely gorgeous and were very meaningful as well. Your way of personalizing the colors was perfect and we will cherish them throughout the years. We also wanted to thank you for making a replacement and appreciate you taking the time to create those. Thank you again and we look forward to an ongoing relationship with you.
Love,
Karen and James




Dear Douglas and Marisa,
We just saw our new wedding bands for the first time & we absolutely LOVE them! They are perfect & we can't wait to put them on "officially" at our wedding in May.
Thanks so much,
Meggan and Joe




Marisa and Douglas,
I love my ring! I'd like to think it was all Chris, but I have a sneaking suspicion that both of you played a big part in making it so beautiful! Thank you for all your help, and all the Paris recommendations.
Warm regards, Thalika




Dear Marisa and Douglas
You are both such a talented, creative and loving couple. I can see it through the craftsmanship of your work. Thank you so much for creating the ring of my dreams! I can't stop staring at it, it is SO beautiful. You will be part of our lives everyday. Thank you for sharing your art with us.
Love,
Madhu and Amit




Dear Marisa and Douglas
Thank you for the jewels that you are and for putting sparkle in our lives!
Warmly,
Abol Shandeh and Mishana




Dear Douglas and Marisa,
We know this is a little late, however we wanted to take a moment and thank you for our beautiful rings. With every complement that I get on both my engagement ring and wedding band, I make sure to sing you praises. Keep up the beautiful work!
Best,




Dear Marisa
Thank you for the time and attention you gave me during my visits to your shop. I sincerely appreciate the value of your time and the help you gave me. Please thank Douglas for taking a look at my ring and the assurances he gave me. I hope you have a great year.
Susie




Douglas,
Thanks so much for making our wedding rings! I cannot even count the number of people that have complimented my engagement ring. It is beautiful and I am sure we will love our bands as well!
Sincerely,
Reema




Dear Douglas & Marisa,
Thank you for a gorgeous engagement ring. I have received so many compliments and my husband and I just love it!!! I hope to purchase another piece of jewelry from you one day.
Thank You,
Megan & Joe




Marisa + Douglas,
I want to thank you for my new piece of hardware. My nieces think it evokes a "Lord of the Rings" armor feeling…to me it is not just a second skin! Thank for the time and effort you took in tearing my old piece apart so I could rethink the use of those rubies. 9 are in Boston with my sister-in-law and her two baby girls. 5 have been given to my sister Laurie (#5 of the 6 kids). another July babe, and the rest are sitting in my "MP" box awaiting their destiny. I'm indebted to you for giving my such a wearable, HEAVY, and cool piece which is symbolic of both the artist and his muse.
Your servant,
Philip