Designer Douglas Elliott is the creative engine that powers the Marisa Perry brand. Elliott has been designing and creating jewelry for almost 40 years. A master in his field, he steers the look and feel of the brand's jewelry line. Marisa, at the helm of the company's operations, drives more of the look and feel of the brand itself. Douglas has always been extremely artistic. As a young child in the 60s, he grew up on Classic Rock listening to The Beatles, The Rolling Stones, and Pink Floyd. He loved spending countless hours in the library researching photography technique and honing his skills in photography for which he eventually won several awards.






During his High School and College days Douglas frequently came to NYC, taking photos and started to become involved in the world of fashion as a fashion photographer. One day, while at a photo-shoot on 6th Ave, he was spotted by a jewelry industry executive from a major diamond concern. This executive admired the way Elliott directed the photo shoot and his demeanor with the models and offered Douglas a position the very next day. Douglas began training in metal work and jewelry manufacturing and was taught the fine art of stone setting alongside a master. Douglas went on to study diamond grading and gemology at the Gemological Institute of America. With his passion for fashion and design, the owners at his company allowed him to create a few of his own engagement ring designs for them, which were met with great success, becoming top sellers immediately! The rest is history.






After years of designing, he had a strong desire to explore more color. He loved the trends in Fashion Jewelry and began designing his own fashion-driven, semi-precious jewelry collection, Elliott, which was sold at Neiman Marcus and Saks Fifth Avenue, among other fine stores. Concurrently, he maintained a custom jewelry design business for private clients, for whom he created elaborate diamond pieces. The press soon followed and he was featured in Vogue, Harper's Bazaar, InStyle and other fashion publications. When the couple met in 2001, Marisa fell in love with Douglas and his jewelry designs at the same time. Enchanted, Marisa saw an opportunity to create a new venture to bring Douglas's exquisite diamond jewelry designs to the forefront. Together, they launched Marisa Perry Atelier in 2002. As the business grew so did the couple's need for a retail location. Elliott and Perry opened their first NYC location in Soho in 2004. They quickly developed a reputation for the most beautiful engagement rings and ultra thin wedding bands. Marisa Perry Atelier has grown into the top engagement ring boutique in downtown New York City.






Douglas loves simple, classic, elegant designs that make women look beautiful. Many of his early inspirations came from his passions; fashion, architecture, and nature. He loved the clean lines and geometric motifs found in Art Deco jewelry. As a fashion fanatic, he was heavily influenced by the simple, beautiful, palates of Giorgio Armani and the minimalistic draping Halston's dress designs. He loved the bold way Gianni Versace used color and the mighty use of imagery found in Barry Kieselstein's jewelry. During his many walks in Central Park, Douglas would admire patterns on the Bethesda Fountain, and the iron work on the gates and even the lamp posts! He would implement these motifs in his jewelry designs. Guided by a minimalistic imperative, he often embellishes his sleek designs with elegant accents as an homage to his interests in design and architecture. Douglas was the first jewelry designer to use trillion cut diamonds as side stones and was the first contemporary jewelry designer to create the halo.






The halo pattern was used extensively in Art Deco jewelry, but with larger stones than those used today. Douglas sought to perfect the halo style by using very small stones around a center stone by employing the Haute Jewelry art of micro pave into his own halo design. After a period of creating several design prototypes, working side by side with the best stone setters in the world, Douglas Elliott created the first contemporary halo design. The halo put Douglas on the map as a major engagement ring designer. Douglas is constantly improving himself and his designs -- he has created over 2000 original designs and is constantly working on creating new ones. He has pushed the limits of micro pave by creating the Victoria Rose ring, which features five rows of perfectly calibrated micro pave diamonds, with the absolute smallest diamonds cut on the market today. He has also created micro pave designs using as little metal as possible by cutting the metal down from the gemstone, exposing the whole gem to the viewer.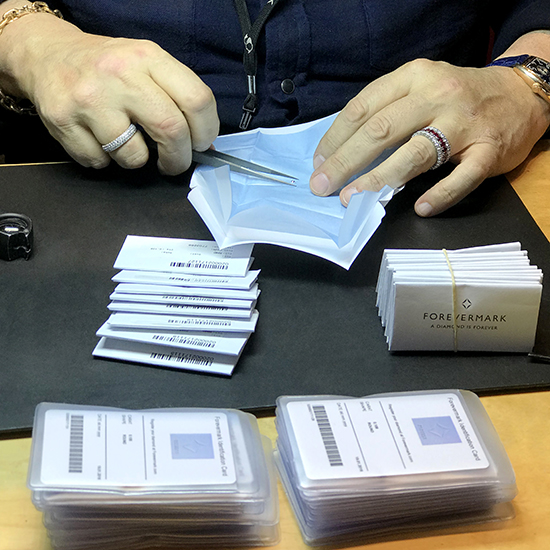 After grading diamonds for decades, Douglas has come to appreciate diamonds from all different perspectives and wants to share this appreciation with his customers. Douglas has been perfecting the concept of opening his designs up as much as possible to show more diamond and less metal by making his designs thinner and more delicate than any other designs available on the market. Douglas loves creating rings that are petite, delicate and minimalistic for the contemporary woman. He adores making other fine jewelry pieces which make women look even more beautiful!